New Spindle Repair Service
We're delighted to announce we are now the exclusive UK agents for BBN of Switzerland, specialists in the manufacture, repair, rebuildng, refurbishing and servicing of high precision spindles, (often spindles can be rebuilt to a higher standard than original OEM parts).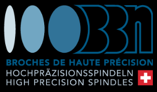 Their core service is complemented by the development of customized products, electrospindles and mechanical spindles as well as spindle certification.
PREVENTIVE SERVICE
Drawing up a preventive maintenance schedule
Planning interventions based on production requirements
Keeping an intervention schedule and history
Fixed price by spindle type
EXPRESS SERVICE
Rapid intervantion – quick turnaround
Quality "Swiss Finish" guaranteed
CERTIFICATION OF SPINDLES – VIBRATION ANALYSIS
Spindle certification allows independent analysis of your spindles, whether new or refurbished.Whether you are buying new spindles or having existing ones serviced, we offer a premium vibration analysis service that allows you to identify, by means of comparison or on an individual basis, each spindle's qualities or areas in need of attention.Each spindle is awarded BBN certification, including vibration signature, the temperatures of the bearings and the pulse, according to the different bearing rotation speeds.
CUSTOMIZED MANUFACTURE OF HIGH PRECISION SPINDLES
BBN designs and manufactures customized spindles whose lifespan and performance generate an excellent return on investment.Its team of highly skilled engineers and technicians use their cutting-edge expertise to execute high precision spindles whose reliability and durability create sustainable added value.