It's a wrap!
Thank you to all our visitors, customers, prospective customers, acquaintences, competitors and friends.
What a busy show – so encouraging too that we have booked our stand for MACH2024 !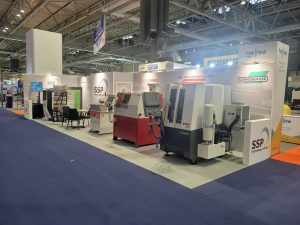 SSP stand at Mach2022
The Schneeberger Aries machine was running and we could demonstrate the capabilities plus show customers videos of other machines in the range plus all the various applications. The Schneeberger engineer was also on site for 3 days answering visitors queries and demonstrating the software capabilities.
We were pleased to host the launch of the new Mu-Tools honing machine – unveiled by James Selka of the MTA on the first morning of the show. This machine was new to the world not just to the UK! A precision honing machine capable of honing from 0.6 mm to 80 mm diameter and capable of QR code transmission of detailed honing information directly into the program.
The Wimmer cut-off machine had not been on our stand at previous shows so we were able to demonstrate the cutting of carbide on the stand.
We also had room for the Dama Easyshape grinding machine, capable of grinding carbide blanks, ceramic, glass, etc. (cylindrical and polygon grinding).
Here are just a few images of how busy we were – again, thanks to all involved and to the visitors to our stand.
#schneeberger #dama #wimmer #mutools #ukmfg #exhibition #grinding #honing #cnc