Knife and special production parts
Knife and special production parts
Flexibility
The flexible machine kinematics, the individual in-house software development and experienced staff of specialist's at Schneeberger make the difference when it comes to the implementation of specific grinding tasks and the manufacture of knife and special production parts.
Schneeberger has met the needs of the Italian market for more than 20 years for numerous medium-sized companies and ensured their economic success by specialisation and innovation. Schneeberger offers custom solutions with the result that these companies can produce products responding to the market demands in an economical and productive way.
Traditionally at home, Schneeberger has produced solutions for a variety of applications for tool grinding in a multitude of industries. Food producers in Emilia Romagne, Italy's shoe and paper industries, glasses manufacturers, bio-medical firms or even the electrical industry: all depend on sharp knives in the manufacturing of their own products. Anyone who has stepped onto an ice rink as a child also knows that the blades of ice skates need to be ground properly. – In all of these economic sectors we have worked with our customers to produce and implement successful solutions.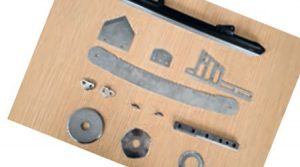 The Cutting Blades
The cutting blades, which are used in these applications, vary greatly in their geometry, size and characteristics. Cutting tools between 0.1 mm and 3 m in length made of a wide variety of materials demonstrate the broad range of these challenges. For all these requirements, solutions with a high degree of automation were created and offered.
Integration
The integration of the individual ISO program grinding sequences in the standard Quinto software means that it is possible to quickly develop highly customized grinding programs. The 3D simulation of such ISO sequences is not just a unique feature of Schneeberger's grinding software, but also a central tool for the simple implementation of such complex programming work.
Application
The applications listed above also demand resourceful solutions in terms of the machine hardware. For example, clamping systems for very delicate, fragile knifes with a thickness of a few tenth of a mm used for leather processing have been developed. Using a hydraulic clamping system with fine adjustment, these challenging tool clamping challenges too where easily overcome.