Burrs – the latest status, with SCHNEEBERGER
Carbide and HSS Burrs
Today, carbide and HSS burrs are used in numerous application areas and are suitable for both manual and mechanical use. Depending on their form and design, the little helpers are suitable for deburring, edge breaking, weld seam and surface processing of various materials, and are used for example in production technology, model construction, the jewellery sector and dental technology.
Latest Software
The developers at SCHNEEBERGER have reworked the software for grinding burrs and brought it right up-to-date.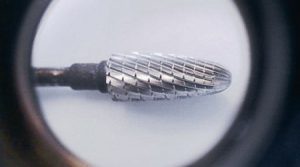 From version 5.4.6, all forms according to DIN 8032 or ISO 7755 are available for grinding. From a cylinder (form ZYA) and round cone (KEL) right through to a tear drop shape (TRE), the example tools can be called up from the available sample database, or parametrically generated independently.
If necessary, the cross-toothing can be realised with positive or negative spirals and selectively follows a constant gradient or constant angle. The face geometry can also be variably configured. Be it grouped, positively or negatively tapered, various types are possible as shown in the figure below.
The generation of the geometry and the calculation of the grinding path constitute a further refinement, which is unique in the world of grinding software.
Once the user has input all of their entries a 2D –DXF as well as a 3D model, referred to in short as a GeoMod, are generated during saving. In simple terms, this represents a wire model with shell. The grinding wheel moves along a visible contact point, so that any erroneous user entries and the grinding path are instantly visible on the model. In contrast to the analytical approach, whereby the grinding wheel is sent in a certain direction according to a formula in the hope that something good is produced, here the grinding point is constantly monitored and follows the geometric contact point on a fixed basis.
At the same time, the grinding wheel is positioned automatically such that the tooth geometry can be reproduced as precisely as possible. In this way it is also possible to discern whether the grinding wheel geometry used is suitable for the production of one or another tool, or if it precludes this from the outset.