New universal and super compact, next generation grinders
Schneeberger's new, universal and super compact, next generation grinders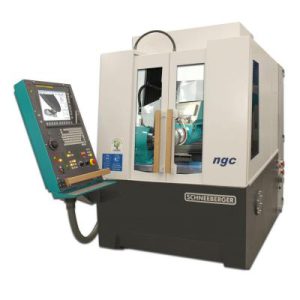 The new Norma ngc from Swiss manufacturer J Schneeberger is a universal 5-axis tool grinding machine for both production grinding and tool servicing. It is just one of the new range in Schneeberger's new, universal and super compact, next generation grinder range.
State of the art drive, dynamic and precision meet in a carefully laid out and balanced machine design ideally suited for the broad challenges of tool grinding. The axes are based on a single, solid cast iron part which guarantees mechanical and thermal stability. The completely new machine concept was realised using well known and classic designs, protecting all essential components from grinding swarf. Schneeberger's machine reliability and uptime has been once again proved and even surpassed.
The super flexible 5-axis tool grinder is well-suited for sharpening and production. It is completely compliant for full automation, with a seven station integrated wheel pack loader with coolant manifold, integrated tool loader and the ideal corresponding clamping systems for any tool type. It is equipped with the new Zenon 3D probe to measure wheel forms as well as tool geometries. The grinding spindle delivers full 13 hp at 100 percent with extreme torque for highest stock removal.
Applications include end grinding, up to 300mm (12") cutting length, 300mm (12"W) diameter, with a maximum length overall of 500 mm (20"). The high torque water cooled direct spindle offers stability and is designed to flute grind from solid. Thanks to perfect TIR, high surface finishes, highest precision for intricate geometries can be expected.
Standard tools such as end mills, ball nose end mills, high performance drills, reamers, profile tooling, profile insertable tools from carbide to #Cermet can be processed. For the sharpening of hobs, shaper cutters, stick blades specifically designed clamping systems as well as programs and processes are available. Production grinding of knifes for the paper, food or plastic industry is possible, while slitting discs can be automatically loaded and clamped.
Rigid and compact five axes kinematics assure the best grinding results. The open structure and accessible utility compartment enables for easy and quick PM on the hydraulic and pneumatic components of the machine. The #Fanuc 31iB5 control guarantees fast and accurate positioning of the machine axes and is well renowned for its reliability and longevity. Automatic switch off of several user components after the last machine function has taken place also reduces energy consumption by 92 percent in the standby mode.