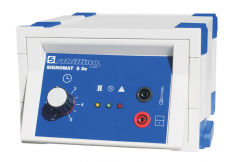 All the advantages of the marking device Signomat S2e at a glance:
Electrolytic marking of metals of various shapes and sizes
Low investment and consumption costs
Suitable for individual parts and batches, extendable if required
Manual setting of the marking time
Small, compact, easy to operate
Complete package, including consumables
Warranty period: 3 years
Easy and fast use of the S2e electrolytic marking device: electrolytic marking of metals with the marking technology from Schilling Marking Systems.
The Signomat S2e is the smallest and cheapest item in Schilling Marking Systems' series of marking devices. Compact, simple and fast: ideal for everyone who would like to mark small numbers of parts permanently and inexpensively from time to time.
The Signomat S2e marking device is equipped with a marking tension of 12V, a manual time setting and a stable plastic case. In addition, you receive the eco-set of the Schilling marking series as a complete package with 20ml electrolyte, 20ml neutralyte, 1 standard marking felt, 1 standard marking stamp 30x15mm and 1 standard alligator clip – all already included in the price. A particularly low-priced contact plate is optionally available that was specially designed for the Signomat S2e marking device. Simply placing the workpieces on the plate allows you to bring about the required contact with the marking device without needing to use the alligator clip.
You can order electrolyte and neutralyte fluids plus other marking consumables from our online shop
As with the two other marking devices Signomat S100 and Signomat S2e, with the Signomat S2e you also receive an extended warranty period of 3 years – as standard and also without a surcharge.
Dimensions W,H,D: 185, 120, 235 mm
Mains voltage: 115/230 V 50/60 Hz
Marking voltage: 12 V
Marking current: 3,3 A
Output: 40 VA
Weight: 1,865 kg