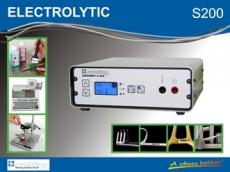 Electrolytic marking device Signomat S200 from Schilling Marking Systems. The standard marking technology solution for industry.
All the advantages of the marking device Signomat S200 at a glance:
Electrolytic marking of metals of various shapes and sizes
Digital, illuminated display of all marking parameters
Selection of marking type: light / dark
Exact setting of the marking time
Suitable for small and medium-sized marking series
An optical and acoustic signal indicates the end of the marking time
Diverse, robust and long-lasting, varied marking use in trade and industry
Microprocessor control
Electronic short-circuit protection
Our electrolytic marking machine Signomat S200: electrolytic marking of metals with marking technology from Schilling Marking Systems. With the Signomat S200 marking device, you opt for the happy medium and you thus combine low investment costs with efficiency and robustness.
The marking device Signomat S200 is equipped with a microprocessor control, electronic short-circuit protection and a digital, illuminated display that makes it easier for you to set the marking parameters. Thus, you immediately see the exact marking time and the light-dark choice of the marking type.
The fixed marking tension of 12V is sufficient for approximately 95% of all marking uses for small and medium-sized marking series. When the set marking time has finished, an acoustic signal indicates to you that the marking process has ended.
You can order electrolyte and neutralyte fluids plus other marking consumables from our online shop
Dimensions W,H,D: 265, 95, 275 mm
Mains voltage: 115/230 V 50/60 Hz (automatic recognition)
Marking voltage: 12 V
Marking current: 3,3 A
Current types: Light/Dark
Output: 40 VA
Weight: 4 kg
Noise level: 20 dB
Operation modes: – manual stamp with automatic start-up
– manual marking together with a foot switch