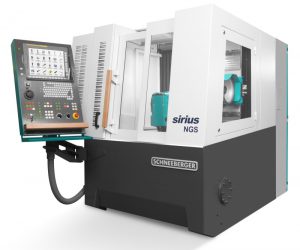 sirius NGS – microns or less !
sirius NGS performs dynamic and high-precision grinding. The kinematic design is ideally suited for small workpieces: 6-axis with linear and direct drive motors. Processes for lights out production with grinding wheels up to 300 mm 12″ in diameter. Dressing and in-process tool measuring allow flexibility and a great deal of autonomy. The loading robot handles complex parts to be ground on several sides, along with specific tool clamping and palletizing. The machine takes up 3m2 32 ft² of space, proportional to the high precision parts manufactured.
High-performance direct drive spindles, internally cooled, 5 or 10 kW, (6.5Hp, 13Hp) HSK50 or HSK 80. The chiller and filtration systems are designed to meet a stable process. It ensures thermal stability even when heavy stock is being removed. adjusted manifolds with coolant nozzles are precisely aimed to the grinding point. The manifolds can be exchanged manually or automatically by the automatic wheel changer.
Workpieces where multiple cutting edges have to be ground which also fit the work envelope within a cubical dimension of 150mm are the preferred applications for the sirius NGS. Linear axis and direct drive motors assure highest accuracy interpolations as well as dynamic processes such as oscillation grinding, relief grinding and profile grinding. The operator access has been ergonomically designed with special attention to getting comfortably inside for the purpose of setting up production s runs or single pieces and wheels. Serial production with robot handling is the intended focus of the sirius NGS.
Applications for the Sirius machines
Indexable inserts – Inserts for drills and mills – Boring tool – Profile cutter – Burrs – Bevel gear stick blade – Reamers – Cylindrical grinding – Non-round grinding – Dental drills – Punches
See the applications here.
See more machines from Schneeberger
Learn more about the company Schneeberger
Axis:
X: 400 mm / 15.75", longitudinal axis, linear motor, resolution 10 nm
Y: 350 mm / 13.75", cross slide, linear motor, resolution 10 nm
Z: 280 mm / 11", vertical axis, linear motor, resolution 10 nm
A: Workholder, infinite rotation with direct motor drive, HSK80, resolution 0.000045°
B: Swivel axis, 270°, resolution 0.000045°
F: Rotary axis, 270°, direct motor drive, resolution 0.000045°
Control:
FANUC 3x Series, 6 controlled axes,
15" TFT color monitor, touch-screen, USB 2.0
Grinding head:
Double grinding spindle, HSK50, 5 kW 6.5Hp (100%), 7 kW 9Hp (60%), direct drive, liquid-cooled, or
automatic clamping HSK50, single ended spindle for automatic wheel loading.
Optional double grinding spindle HSK80, 10 kW 13Hp (100%), 13 kW 17Hp (60%), direct drive,
liquid-cooled
Loader Options:
FANUC robot, 2 pallets, 300 x 300 mm pallets or stack with 10 pallets,
automatic grinding wheel loader with 7 positions for up to 21 grinding wheels
Weight: 4,000 kg (9,000lbs)