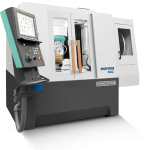 norma 750
NGC – 5 axis CNC Grinder
the workhorse !
normaNGC: universal and super compact new generation of grinding  machines. Modern Drive Dynamic and Precision meet a carefully layd out and balanced machine design ideally suited for the broad challenges of tool grinding. The axes are based on a single, solid cast iron part which guarantees mechanical and thermal stability. The completely new machine concept was realized with well known and classic designs, protecting all essential components from grinding swarf.  Schneeberger's known  machine reliability and uptime well once again be proven, even surpassed.
Super flexible 5 axis tool grinder suited for sharpening and production. Complete, including end grinding, up to 300mm (12") cutting length, 300mm (12") diameter, maximum length overall 500mm (20"). The high torque water cooled direct spindle offers stability, designed to flute grind from solid. Thanks to perfect TIR, high surface finishes, highest precision for intricate geometries can be expected.
Standard tools such as end mills, ball nose end mills, high performance drills, reamers, profile tooling, profile insertable tools from carbide to Cermet. For the sharpening of hobs, shaper cutters, stick blades specifically designed clamping systems as well as programs and processes are available. Production grinding of knifes for the paper, food or plastic industry is all possible. Slitting discs can be automatically loaded and clamped.
Ball Nose End Mills with flute length of up to 700 mm or Gear Hobs with up to modul 22 and up to diameter 350 mm
Axes: X: 750 mm, longitudinal axis, anti-friction guideway, ball screw, resolution 50 nanometer
Y: 390 mm, cross slide, anti-friction guideway, ball screw, resolution 50 nanometer
Z: 325 mm vertical axis, anti-friction guideway, ball screw, resolution 50 nanometer
A: Workholder, infinite rotation, ISO50, resolution 0.0001°
C: 345°, rotation of the grinding head, resolution 0.000045° Control:
FANUC 3x Series, 5 CNC controlled axis, 15" TFT color monitor, touchscreen, USB 2.0
Grinding head: Double end grinding spindle, direct drive, HSK50
Optional: Grinding spindle with HSK50 with automatic clamping, for grinding wheel loader, 10 kW (100%), 13 kW (60%), direct drive, liquid-cooled
Loader Options: Integrated parts loader, tool pallet 300 x 300 mm
Grinding wheel loader with 7 positions for up to 24 grinding wheels
Width: 1'630mm, Depth: 2'210mm, Height: 2'100mm, 6'000 kg
See more machines from Schneeberger
Learn more about the company Schneeberger
Axes
X-Axis: 750 mm (29"), Longitudinal, recirculating ball screws, resolution 0.05 μm
Y-Axis: 390 mm (15.3"), Cross Slide, recirculating ball screws, resolution 0.05 μm
Z-Axis: 325 mm (12.8"), Vertical Slide, recirculating ball screws, resolution 0.05 μm
A-Axis: ISO50 Headstock, resolution 0.0001°
C-Axis: 365°, Rotation of wheel head, resolution 0.000045°
Control
FANUC 3xSeries, 5 Machine Axes and options
15" TFT-Color monitor with keyboard and touch screen, USB 3.0
Loader
Integrated tool loader 300mmx300mm Pallet
Wheel loader for 7 pack
Grinding Head
Direct Drive Grinding Motor, HSK50, liquid Cooled, 10 kW (100%), 13 kW (60%)
grinding wheels from ø 50mm up to 250mm
Weight
13,000 lbs (6,000 kg)