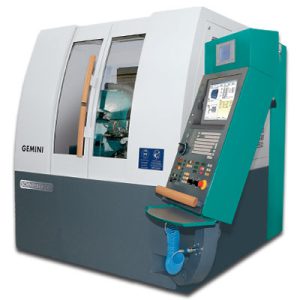 Total use of linear motor technology opens up new dimensions in profiling hob cutters. Naturally, the dressing process benefits from the linear motor technology in the GEMINI ghp. The grinding processes can be custom programmed using variable infeed and therefore make full use of the capabilities of the latest grinding wheel technology. High oscillation frequency, the elegant kinematic machine concept and mechanical stability make the GEMINI ghp Schneeberger's top of the range model.
The oscillating grinding spindle is the heart of the system. Thanks to interchangeable grinding heads, with and without counter support, grinding wheels with diameters of 25 to 120 mm can be used. The high-performance control processes precise track points along the back off clearance grinding; minimal motion of components and modern linear motors technology translate it into mechanically high and optimized dynamics. Setup for new tools is supported by probing cycles and is therefore highly efficient.
See more machines from Schneeberger
Learn more about the company Schneeberger
Axes:
X-axis, 400 mm stroke, longitudinal slide, resolution 0.1 µm (optional: 50 nm or 10 nm)
Y-axis, 300 mm stroke, vertical column, resolution 0.1 µm (optional: 50 nm or 10 nm)
Z-axis, 280 mm stroke, cross slide, resolution 0.1 µm (optional: 50 nm or 10 nm)
A-axis, workpiece carrier, free rotation, ISO50, resolution 0.0001°, centre height 210 mm
(optional: resolution 0.000045°, 800 rpm, 218 Nm)
C-axis, 240°, grinding head rotation, direct measuring system, resolution 0.000045°
Control:
FANUC 31i B5, 5 axes simultaneously
15'' colour monitor with keyboard and touch screen, USB 2.0
Grinding head:
Head replacement system, grinding discs from Ø 25 mm to 120 mm, with or without heel;
water-cooled grinding motor, ceramic hybrid bearing.
15 kW 100% ED; 3000 ÷ 25,000 rpm.