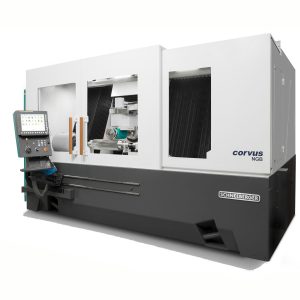 corvus NGB BPP
The 6-axis CNC profile grinding machine for the production of profiles on broach tools or the profiling of automotive body panel dies.
The 6-axis CNC grinding machine corvus BPP has a highly dynamic linear motor driven vertical oscillating axis. The corvus BPP represents the solution for all profiling tasks in which the grinding wheel must oscillate in a vertical direction. The zero points on the tools are found automatically by the high-precision 3D probe.
Applications for the corvus BPP are the regrinding of automotive body panel dies with torus radius wheels using oscillating grinding approach as well as the profiling of broach tools.
Accessories for individual expansion of the application spectrum and for increased productivity:
X-stroke of 1250 mm up to optional 3100 mm
Direct measurement system in all axes
Linear motors in all axes
Direct drive motor for cylindrical grinding tasks up to 1250 Nm torque
Dressing unit for dressing and sharpening profiles
Manual or hydraulic tailstock
Manual or hydraulic steady rest
Magnetic chuck
Collet chucks, clamping mandrels
Coolant filtration system
Exhaust air filter
CO2 extinguishing system
Applications for the CORVUS bpp are regrinding car body cutting blades using torus discs in oscillation grinding and profiling broaches of all types and sizes.
See more machines from Schneeberger
Learn more about the company Schneeberger
Axes:
X: 1250, 2100, or 3100 mm longitudinal axis, linear motor, resolution 10 nm
Y: 400 mm , transverse slide, recirculating ball screw or linear motor, resolution 50 nm or 10 nm
Z: 400 mm , vertical axis, recirculating ball screw or linear motor, resolution 50 nm or 10 nm
A: ∞ ISO 50 tool carrier, resolution 0.000045°
W: 100 mm stroke, vertical oscillating axis, linear, resolution 10 nm
C: 360°, rotation of the grinding head, direct measurement system, resolution 0.000045°
---
Control:
FANUC 3x Series, 6 controlled axes
19" colour monitor with keyboard and touch screen, USB 3.0
---
Grinding head:
Double ended grinding spindle, direct drive, water cooled
10 kW (100 %), 13 kW (60 %) for grinding wheels ø 30 mm to ø 250 mm, 1000 to 12,000 rpm, HSK 50
---
Weight:
X-stroke 1250 mm: L 3285 mm, weight 13,500 kg
X-stroke 2100 mm: L 4135 mm, weight 17,000 kg
X-stroke 3100 mm: L 5365 mm, weight 20,500 kg