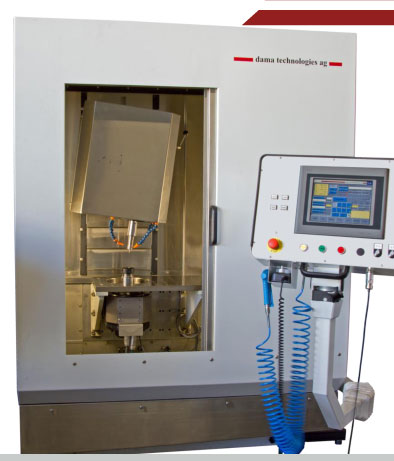 The TPM machine is used for drilling and trepanning of discs and rounds in glass, ceramics and other hard and brittle materials. Depending on the type of spindle, holes of ø1 – 100mm are possible.
The basic machine includes three linear axes (X, Y, Z) and a belt-driven spindle with internal cooling. A HSK spindle is available as an option which can be connected to a tool changer. The machine guarding that separates the working area with the movement area is made of stainless steel and guarantees a long life, as well as an easy to clean environment!
The drilling process is controlled by a precise measurement system, which allows the machine to adjust the maximum possible drilling speed as well as to have 100% process control. This leads to higher productivity and quality.
The dialog interface allows easy programming; customers not familiar with CNC machines will be able to operate the machine with minimal training. The machine is also equipped with an interface for ISO programming and modern communication (LAN, USB) plus state of the art CAM support is also included.
The TPM trepanning machine is based on a modular machine concept from dama technologies ag. A wide range of options, such as a tool measurement device, coolant pressure monitoring system, optical working control system and fixation plate etc. guarantee to match perfectly the required specifications.
X-axis:  Traversing path 470 mm Digital display 0,001 mm Speed 0 – 3'000 mm/min
Y-axis: Traversing path 200 mm Digital display 0,001 mm Speed 0 – 3'000 mm/m
Z-axis: Traversing path 400 mm Digital display 0,001 mm Speed 0 – 1'000 mm/min
B-axis (optionally): Swivel range +/- 60° Digital display 0,001°
Workpiece table: 600 x 300mm mit 50mm grid
Spindle: 2.2 kW, programmalbe from 500 – 5'000 rpm
Force measuring system: 0 – 50 (500) Newton (optionally) for feed control for Z-axis
Control: for X, Y, und Z-axis movementB&R PP520 – Touch screen as operator interface – Force indication optionally – Spindle load indication – Emergency stop B&R CNC control – Logic unit for 3 axes and 1 spindle – hand wheel.
Splashing protection: Doors with window, complete stainless steel enclosure
Dimensions: Length ca. 2'000 mm Width ca. 1'800 mm Height ca. 2'400 mm Weight ca. 3'100 kg.
Electrical connection: 3x400V / 50Hz, 3L+N+PE / max. 32A
Compressed air connection: 6bar
Colour: RAL 7035 / 3003
CE-conformity: The machine complies with the European directives the CE regulation