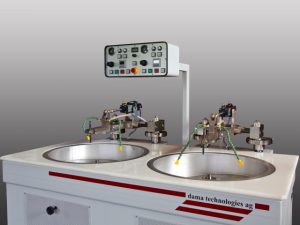 Single or multi station smoothing and polishing machine with single or double eccentric horizonal overarm to process high precision plane or spherical surfaces.
For flat optical components of high precision.
The present design follows a newly developed modular concept:
Each spindle, of both smoothing and polishing device, features its own drive.

The tool contact forces are individually controlled pneumatically, which permits you to attain smoothed and polished surfaces of top quality.

The double eccentric drive forms a unit which copes with all smoothing and polishing work.
Thanks to the individual adjustment at the eccentric it is possible to generate any number of polishing patterns. The result is an optimal quality achieved in the shortest possible time.
The machine features a welded, sturdy base frame covered by a solid plastic plate.

The smoothing and polishing tubs are recessed in the top plate and removable.

The working spindles and eccentrics are driven over toothed belts, a solution which provides enormous advantages in respect of loss of force and servicefriendliness.

The speeds are freely selectable.

Spindle stability and precision are assured by a suitable cone and ball arrangement.

On request the machine stations can be operated individually.
Technical data

Type

SPF 150

SPF 300

SPF 500

SPF 650

Length

1250 mm

1450 mm

1900 mm

1900 mm

Width

700 mm

900 mm

1250 mm

1250 mm

Height

1450 mm

1500 mm

1600 mm

1600 mm

Weight

550 kg

700 kg

900 kg

900 kg

Working range plaint to R+/-

80 mm

100 mm

100 mm

100mm

Tub diameter

250 mm

320 mm

500 mm

700 mm

Workpiece diameter max.

100 mm

250 mm

450 mm

600 mm

Workpiece spindle
connection

M27 / DIN58725

M27 / DIN58725

M39 / DIN58725

M39 / DIN58725

Installed Power

4 kW

4 kW

5 kW

5 kW

Air connection

6 bar

6 bar

6 bar

6 bar

Number of spindles

2

2

2

2

Workpiece speed

10 – 200 rpm

10 – 180 rpm

5 – 100 rpm

5 – 100 rpm

Eccentric speed

10 – 100 rpm

5 – 50 rpm

5 – 50 rpm

5 – 50 rpm

Working pressure

175 N / 4 bar

210 N / 4 bar

550 N / 4 bar

550 N / 4 bar