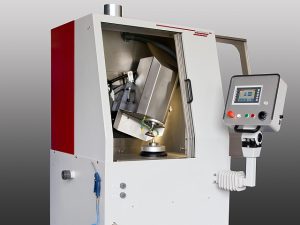 Easy to use – efficient in action

The spherical grinding machine FSA was developed for surface generating of plan surfaces as well as concave and convexe spheres from ø1 to 80mm. The machine is suitable for the machining of optical glass, sapphire and ceramics.
A NC control with touch-screen allows fast programming of operations. The lenses can be automatically tensioned with vacuum or with collets.
Technical Data

travers path
digital display
160 mm
0.005 mm

Z-axis
travers path 150 mm
digital display 0.001 mm
feed rate 5000 mm/min

swiveling path
digital display
0-45 °
0.002 °

Work piece spindle 200 – 1000rpm
Grinding spindle programmable 500 – 6'000rpm
Electrical connection 3x400V, 50Hz, L+N+PE / 16A
Compressed air connection 6 bar
Dimension 1000 x 1000 x 1900mm
Weight approx. 850 kg
TECHNICAL ALTERATIONS SUBJECT TO CHANGE