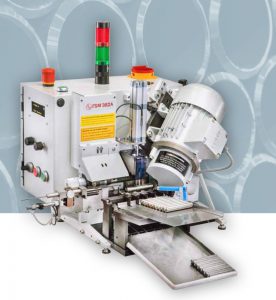 The new chamfer grinding machine: fast – mobile – compact
Useful for:
Easy operation with only one hand
Excellent grinding quality
Dry processing saves coolant
Adjustable chamfer width
Mobile use with table on wheels (option)
The machine stops when the grinding wheel is at its minimum diamond layer. After the grinding of the chamfer, the transport rolls open automatically and the ground part drops onto the evacuation belt. Grinding is done with water coolant. A mist cooling of the grinding area ensures an excellent  precision of the chamfer and a long lifespan of the grinding wheel.
The modern CNC can program the angle and the width of the chamfer, the feeds and speeds as well as the spark-off time. Pre-programmed grinding profiles allow you  to optimize the chamfer grinding of a vast array of different rods. The CNC is very user-friendly and has graphical assistance.  Precision guides (both for the axis and table) and a grinding spindle with high precision bearings allow the production of large series of ground chamfers with an excellent precision. The workpiece is pushed against the stop at exactly the same position by the sensor controlled and mobile transport rolls, thus guaranteeing  the uniformity of the ground chamfers. The grinding wheel is measured by laser and its wear is automatically compensated. The machine can also grind complete points with a very short set-up time.
Cutting range: Ø 3–18 mm (0.5 – 25 mm)* / flats until 40 x12 mm
Grinding range
Ø 3 – 22 mm
Grinding wheel
Ø 100 mm 11V9
Power
0.55 kW
Electrical supply
400V DS-50Hz
Painting
light gray RAL 7035 /
ruby red RAL 3003
Weight
40 kg / 65 kg with table
Dimensions L x W x H
550 x 650 x 400 mm /
with table: H 1.300 mm