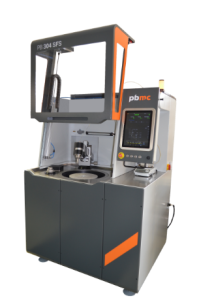 Single-sided machines PB 304 SF – Swiss Made
Fully developed and manufactured in Switzerland, this machine reflects "Swiss made" know-how, high quality and aesthetics. By virtue of its kinematics and design, our single-sided equipment PB 304 SF can obtain perfectly flat surfaces with a remarkable polish quality (including mirror polishing).
The adjustable movement of the fixture fitted with one or more parts ensures uniform wear on the plate (or polishing pad), thereby improving its service life and guaranteeing the stability of the components' geometric qualities. The rotation of the fixture, either free or driven (optional) optimises the polish quality.
Thanks to its versatility, our single-sided equipment PB 304 SF can machine almost any type of material (precious metals, enamel, stone, copper alloy, steel, titanium, ceramic, lacquer, mother of pearl, etc.). Equipped with the new QPLI (Quick Plate Locking Interface) system, plate changes are tool-free and effortless. The interface is easy to access and clean with water, without the risk of altering the mounting.
By means of a user-friendly intuitive touchscreen, the control system enables you to create, save and reuse specific programs. Several access levels (operator, setter, maintenance, etc.) enabling the different users to work in a secure environment with optimised features.
In partnership with our Process Department, we will develop the optimal, reliable and repeatable solution for your products. See the range at: PBMC website