On now to Mach2018
We're back after a successful few days at Grindtec in Augsberg, Germany – we can now clear the desks and get around to finalising our plans for this year's MACH2018 exhibition at the NEC, Birmingham running from the 9th – 13th April.
Will you be there?
Use the link to get your FREE tickets. https://registration.n200.com/survey/004wjxrk44zqk?actioncode=NTWO000353XAZ&partner-contact=141iuziyzqwr3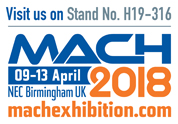 We will be exhibiting Schneeberger, Pemamo and Palmary machines as well as showing information from Joen-Lih, Wimmer, Schilling and Farman too.