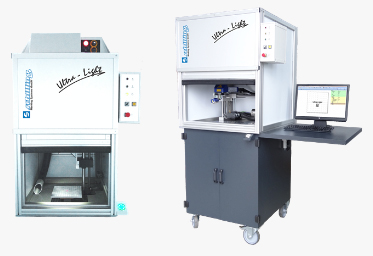 Ultra-Light Series
The Schilling diode lasers V40, V80, the fiber lasers F20, M20 and F50 and the uv-laser UV3 can be combined with the functional and modern Ultra-Light laser safety cabinets of laser class 1. The scope of delivery of the Ultra-Light sets includes the laser source, a laser cabinet with automatic door, an automatic z-axis, a perforated plate, a Windows PC with marking software and an extraction system. Due to its compact design, the Ultra-Light marking lasers can just be operated on a table or a workbench. Furthermore the Ultra-Light marking lasers can be combined with robotic systems.
Automatic door
Can be connected to robotic systems
Automatic z-axis
Ultra-Light Plus Series
The Ultra-Light Plus cabinets offer more marking area and more comfort. The door closes automatically after starting the marking. After the marking process the door opens automatically. Due to its generous space and the pneumatic door with large viewing window it is possible to mark fast, precisely and with little effort. The scope of delivery of the Ultra-Light Plus Serie includes a laser source (diode laser V40, V80, fiber laser F20, M20, F50 and uv-laser UV3), a laser safety cabinet of laser class 1 with pneumatic door opening and closing, a large perforated plate, an embedded PC with marking software and an automatic x- and z-axis. Moreover all Ultra-Light marking lasers include a high-quality extraction system.
Automatic door opening and closing
Integrated extraction system
Compact dimensions, large workspace
Different combination possibilities are available for different marking applications. Fiber lasers are especially good for marking large series, whereas small and medium sized series can be marked very well with cost-effective diode lasers. Moreover uv lasers are best for marking special plastics. We are looking forward to advising you and to send you an offer about the best machine for your application.