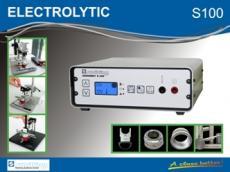 Electrolytic marking of metal items of different shapes and sizes with:
Letters and numbers, graphics, trade marks, scales, data and logos.
Suitable for medium and large size series, expandable to semi-automatic machine.
Choice of light / dark markings, exact adjustment of the marking time.
Recommended for steel, aluminium, non-ferrous metals and large markings.
Adjustable operation Voltage: 12 / 18 / 24 V.
End of marking time is indicated by an optical and acoustic signal.
Versatile, sturdy and durable.
Warranty period: 3 years.
Dimensions W,H,D: 265, 95, 275 mm
Mains voltage: 115/230 V 50/60 Hz (automatic recognition)
Marking voltage: 12 V / 18 V / 24 V
Marking current: 3,9 A
Current types: dark or light
Output: 100 VA
Weight: 4,4 kg
Noise level: 20 dB
Operation modes: – manual stamp with automatic start-up
– manual marking together with a foot switch
– pneumatic stroke started by a foot switch