And we got a mention – in Grinding & Surface Finishing Magazine
We were delighted to find ourselves on page 67 of the MACH2018 issue of Grinding & Surface Finishing magazine – April 2018. Thanks to Roger Barber Publishing for the piece about us. Great to be mentioned !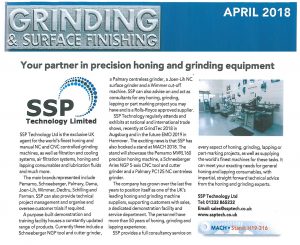 SSP in G&SF Magazine April 2018
Advertising Budgets
As a small company its difficult to have enough money in the advertising budget to do any good – advertising is so expensive and how do you know if it's working?
Social Media
Time is also a constraint in a small company, only so many staff members to do all the tasks. One of the tasks we are trying to do more of is social media marketing so watch this space and see if we manage to come up in any of your Twitter feeds or on LinkedIn, etc.
Online Shop
Keep an eye out too for us rolling out the online shop.