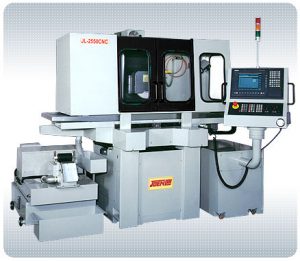 Joen-Lih Hi-Precision NC surface grinders are designed to meet current and future grinding requirements.
The machines are engineered and manufactured to the highest industry standards – starting from the raw castings right through to quality testing. This ensures optimal surface grinding accuracy and finish. The goal is to exceed customers' expectations for quality and investment.
The Y and Z axes are available to equip with linear scales (Optional equipment) that greatly upgrade positioning accuracy, machining accuracy and efficiency.
Wheel dressing parameters are controlled by programs. It provides a selection of automatic and semi-automatic operation modes, combined with automatic compensation functions, allowing the grinding wheel to be kept at an optimal condition at all times.
See the machines we offer here:
| DESCRIPTION | MODEL | JL- 2550 CNC |
| --- | --- | --- |
| General capacity | Max. Grinding Length | 500 mm (20") |
| | Max. Grinding Width | 250 mm (10") |
| | Table Working Surface | 250x500 mm (10"x20") |
| | Max. distance from table Surface to Spindle Centerline | 470 mm (18.8") |
| Longitudinal Movement | Max. Table Travel | 290x550 mm (11.6"x22") |
| | Table speed infinitely variable | 0-25 m/min |
| | T-slot Size x Number | 14 mmx1 (0.56"x1) |
| Cross Movement | Max. Cross feed Movement | 290 mm (11.6") |
| | Cross feed Rapid Feedrate apporx. | 3000 mm/min (120"/min) |
| | Least Input Increment | 0.001mm (0.00004") |
| | Cross Feed On Hand wheel rev. | 0.1-1-10 mm (0.004"-0.04"-0.4") |
| | gra. | 0.0001-0.01-0.1mm(0.000004"-0.0004"-0.004") |
| Wheelhead Vertical Infeed | Rapid Vertical Rate | 500 mm/min (20"/min) |
| | Least Input Increment | 0.0001 mm (0.00004") |
| | Auto Infeed rev. | 0.01-0.1-1 mm (0.0004"-0.004"-0.04") |
| | gra. | 0.0001-0.01-0.1mm(0.000004"-0.0004"-0.004") |
| Grinding Wheel | Wheel Speed | 0-9000 R.P.M. |
| | Grinding Wheel Size | 255x19x50.8 |
| Drive Motors | Spindle Motor | 12 HP (9.25KW) |
| | Auto. Gross Feed Motor | 1.9 HP (1.4KW) |
| | Rapid Head Elevation Motor | 1.9 HP (1.4KW) |
| Weight | Machine Net Weight | 1800 Kgs |
| | Packing Gross  Weight | 2000 Kgs |
| Size | Machine Floor Space (LxWxH) | 2350x1800x2100 mm |
| | Packing Dimension (LxWxH) | 2400x2280x2200 mm |